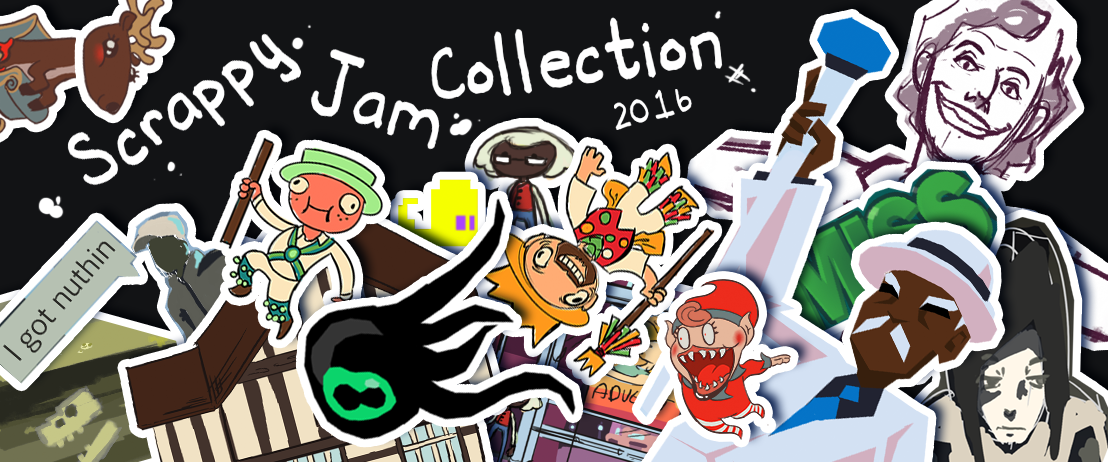 Scrappy Jam Collection 2016
A downloadable collection for Windows
Our collection of some of our past projects that didn't see the light of day.
For Scrappy Jam 2016 held by Ashley Pringle
The mundanity, insanity, mistakes, things that made us laugh, made us stressed, taught us and taunted us. A small collection of builds, concept art, notes and such for the following projects:
2012 - Super Bus Stop Brenda - A weirdo-spotting, bus-waiting toy.
2013 - Aptly named Dinosaur Game & our first external tool, a map editor.
2014 - The Hitchhiker's Guide to Dinner - An animatic to a section of the Hitchhiker's Guide to the Galaxy book.
2014 - Invasion of the Morris Dancers - A game about an invasion of fanatical morris dancers that slowly take over the sleepy south of England. Also they explode.
2014 - Kessler Syndrome - A comic about a race of cloned people specifically grown by a corporation to look for and take menial jobs.
2014 - Xmas Jeer - A light little shooter about hating Christmas and destroying things in space. Includes a family-friendly level of gore and blood. Eh, depends on the family...
2015 - World Eater Invasion - A jumpy, hacky, slashy, arcade game about a retired magical-girl archetype, defending earth from an invasion of tar-like aliens with massive sword and death-metal style powers to shoot red-lightening. Or something like that, it's complicated.
Every project has a little readme.rtf about that project with a few words from us.
Thanks for taking the time to pick through our insane scraps.
Download
Click download now to get access to the following files:
Gormless_Scrappy_Jam.zip
184 MB